I have a vivid memory as a child of crying after the Oscar nominations were announced.
It was in the early '90s, and my beloved favorite film The Cutting Edge (about the relationship between a figure skater and hockey player) had not been nominated for anything. Instead, strange-sounding films like The Crying Game and Howard's End were in the mix.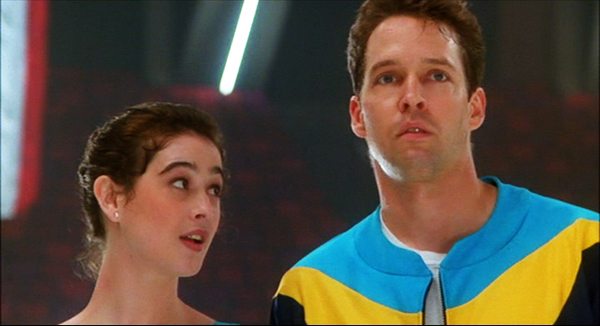 "I hate the Oscars," I said, fighting back tears. "They never nominate anything I like."
(Note: There's nothing wrong with The Crying Game or Howard's End; I was just a kid who wasn't old enough to see these movies). 
And now, 25-some years later,  a lot of people are feeling my pain, only this time it's: "They never nominate anyone different than a white person."
Yes, this has long been a problem with the Academy Awards. It's always bothered me that the only time the Academy seems to recognize people of color, especially women, in the acting categories is when they're playing slaves (Lupita Nyong'o), servants (Hattie McDaniel, Octavia Spencer), or are hyper-sexualized in some manner (the main thing people talked about with Halle Berry's role in Monster's Ball was her sex scenes). [Even more upsetting, if you look at Lupita Nyong'o's IMDB page, most of her roles post-Oscar win have been voice work (Star Wars, The Jungle Book). WTF?]
At this past Emmy Awards, Viola Davis said in her acceptance speech: "You cannot win an Emmy for roles that simply aren't there." And the same is true for the Oscars.
People make fun of Tyler Perry, but he was the only director who had the balls to do a movie like For Colored Girls, which featured a mostly female cast of some of the best African American actresses working in the business. Even if it wasn't well-received, more directors need to be making movies like this, with depictions of modern-day African American women, not just archaic reminders of the past. 
But aside from having a proclivity toward "white" movies, the Academy is also more inclined to reward dramas over comedies, pretty ingenues over character actors, overdue actors with underwhelming performances over no-names in highly regarded independent films. 
The Academy is like the high school yearbook staff, drunk on power with a propensity for highlighting things they like and are comfortable to them. (There's no way the 75% white Academy was going to nominate Straight Outta Compton, no matter how good or bad it was.) Yes, they like "white" movies, but they also mostly like white dramas that contain an uglied-up-actress who turns into Cinderella by Oscar night. 
Some actors/directors like George Clooney have come out against the Academy for this race problem, but Clooney's next film is a Coen brothers movie, which has Oscar all over it despite its February release (it's the Coens, after all), and not one single African American in the main cast. 
A lot of entertainment outlets are trying to figure out how to fix the Academy Awards and make them more diverse. Diversifying the Academy is one thing, but I do think it's time for actors with power like Will Smith and Clooney to put their money where their mouth is. 
A good start: Someone put Lupita Nyong'o in a movie where I can actually see her face.